Keep up-to-date with all the latest education news from St Francis of Assisi Glendenning.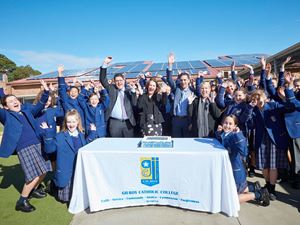 Nineteen Catholic Education Diocese of Parramatta schools have `switched on' to free solar power and energy efficient LED lighting, under a program tipped to reduce carbon emissions of 2,442 tonnes each year across the schools. Read more...
Categories:
St Francis of Assisi Primary was fortunate to trial a new virtual reality program where students get to experience what life is like in Timor Leste. The story was filmed by an ABC film crew and it aired on their breakfast program. View the video...
Categories: